JAY WATKINS UNIVERSITY SERIES, VOLUME 5
LISTEN to the FISH
JWU 5, "LISTEN to the FISH", $34.95

| | |
| --- | --- |
| Order a DVD | Order on USB Flash Drive |
ENTIRE SET OF TEACHING TRIP SERIES LEGACY DVD VOLUMES 1-19
(on USB Flash Drive in MP4 video files)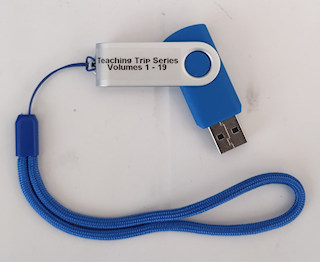 Each of the 19 Volumes contains the original DVD content and is appoximately 60 minutes in length.


$179.95



Blog Date: 2022-05-15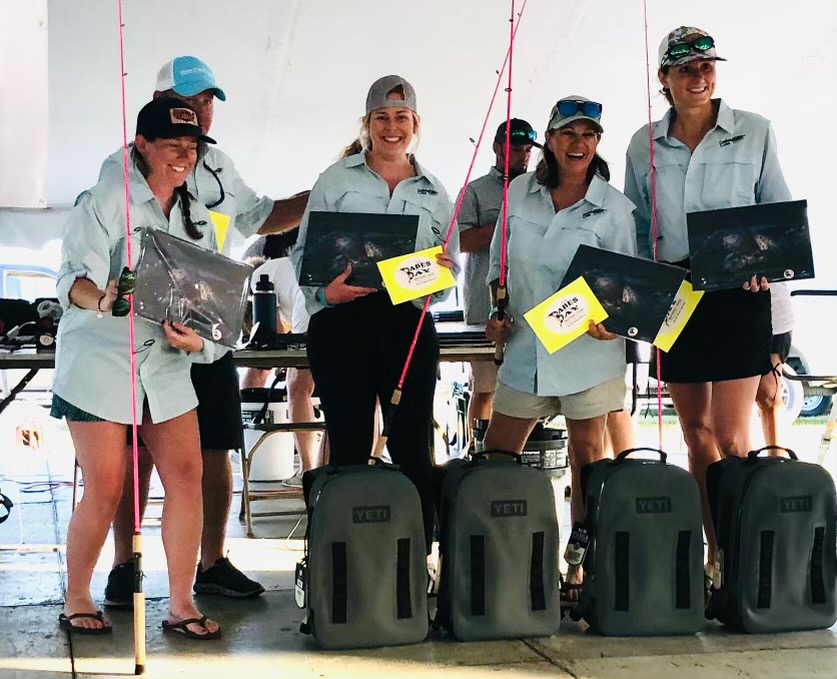 CONGRATULATIONS to TEAM DONALDSON for their win in the Unguided Lure Division of the 2022 Babes on the Bay tournament this weekend. Good job to the captain Drew Donaldson for the adjustment to changes in winds direction and the drastic loss in tidal levels. Ladies worked hard and never came out of the water. Competing is tough on a weekend but winning is tougher, so great job ladies.
On the fishing scene winds were lighter this week on the average but still a couple of days with 20 mph SE winds in the afternoon hours. Summer is absolutely here. Air temperatures are in the low to mid 90's, its super dry and water temperatures are 84 to 85 degrees by mid day. Starting at 81 to 82 degrees in the flats each morning this week. Trout fishing is still dependent on winds and dolphins. I am refusing to fish in areas where the Dolphin show up and start trying to eat the fish we are catching and releasing. It is nature's way and I get it but I don't have to make it easier for them. Deeper grass beds working best for me along barrier island and some I.C.W. Spoils as well. Locating water changes and Menhaden schools is still critical to the success of our day. Reds are plentiful but getting hammered by just about everyone every day. My guys have been terrific about releasing the reds as well as the trout knowing what kind of pressure this species is under as well.
MIRROLURE LIL JOHN XL'S and LIL JOHN'S in WATERMELON RED GLITTER, GOLDEN BREAM, OPENING NIGHT, MOULTON and CLEAR RED/GOLD GLITTER have been good color choices in our clear waters and over larger grass flats. Reds and trout alike are still loving the action on the TEXAS CUSTOM'S DOUBLE D'S. It is important to STRESS the importance of getting your soft plastic baits on your jig heads as STRAIGHT as you can. This will provided better action and aid in preventing line twist.
Hot and dry is the forecast so these conditions will be tough on ALL of the bay residents as well as the anglers. Go early, Release all you can and stay hydrated. Hope to see you on the water or around the docks.
A quick update on WATKINS LANDING. What a special group of fishermen we are lucky to have at our facility. Everyone has been very courteous to their fellow fishermen and have kept the wash plants clean. I see ZERO TRASH anywhere blowing lose on the property. Just a super job by all of our clients. We have a waiting list that we would love to add you to if you might be interested in becoming part of the Watkins Landing Fishing Family. Just send me a text with NAME, EMAIL and a PHONE NUMBER and I will get you added. We are looking at adding another 10 or so units this summer.
Blog Date: 2022-05-03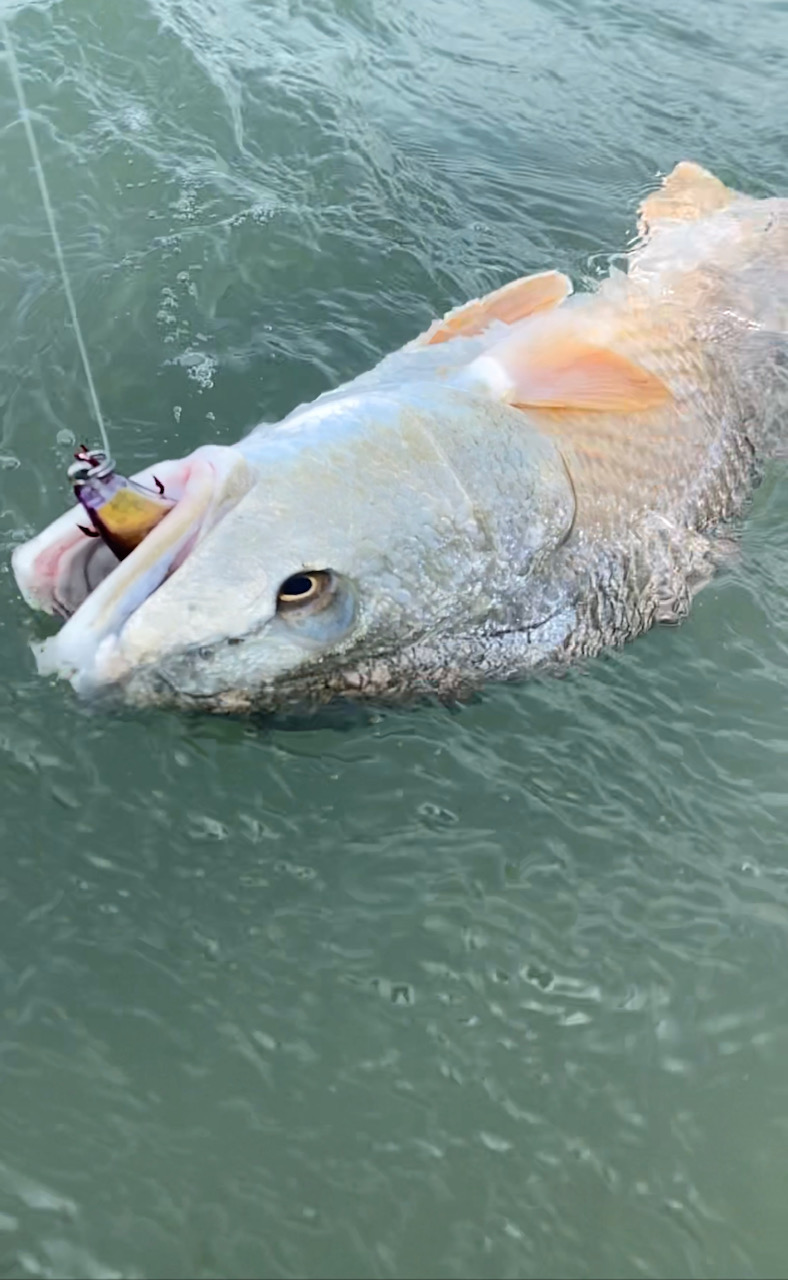 Our weather pattern is still up and down in the wind department. Less than 20 today for most of the day but gusted to over 35 yesterday and Sunday and the next three day forecast looks to be pretty bad as far as the wind is concerned. That the not so good news. The good news in that we have higher tides on our grass flats and back lake areas are holding good water and nice reds and trout. Less trout right now than reds but this is to be expected with our trout numbers still low. 15 to 20 mph SE winds help us in the flats and backwater when wading and throwing lures. Just the ripple on the water and the slight sanding up that we see is the difference between catching them verses just looking at them swim by. Don't take any chances crossing the bay if winds are 25 to 30 mph but anything 20 or less in the flats and back lakes can be almost ideal.
Texas Custom's Double D'S in CROWN ROYAL and SEA GRASS as well as MIRROLURE LIL JOHN'S or LIL JOHN XL'S in WATERMELON/RED GLITTER, MOULTON, OPENING NIGHT or CHARTREUSE ICE have worked well over shallow grass flats.
Good luck and as always, release the trout if you can do so. This effort will go a long way in helping with a speedy recovery of our trout populations.
Blog Date: 2022-04-12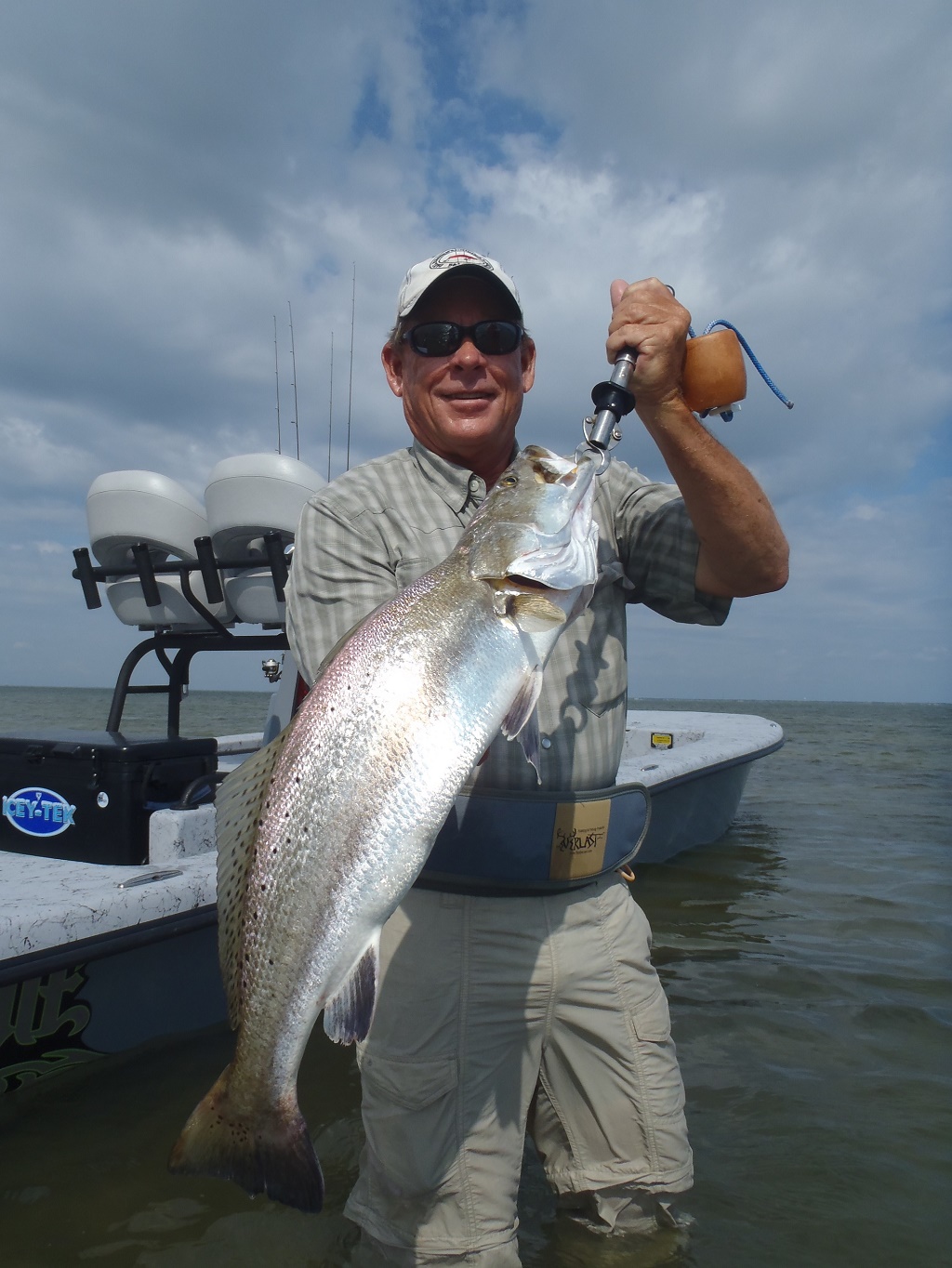 Our weather conditions here over the past 4 days have been terrible. We had gust out of the SE yesterday over 50 mph!!! Honestly the winds and low tides AGAIN have really hurt us since about noon on Saturday. I have cancelled the last two days due to winds out of the SE that have been sustained all day over 20 mph with gust to 30 plus being common. The fun factor is just about zero when the tides are lower than low and winds this high. Higher tides over the next few days will certainly open up some other areas for us that are not as subject to being torn up or totally gutted if we get about 10 inches or more of tide. I just came down Fulton Beach road on my way to the house and it looks as if the tides have increased today. Maybe by morning we will have enough water to access some areas that higher tides allow the water to stay a little more clean in such high winds. Our long range forecast is calling for 17 to 20 mph ESE winds through the weekend so not really a great forecast for those wanting to come to town and fish this weekend.
The good news is that the tides will return and we are seeing a really good migration of Menhaden coming into the bays. These two factors will drastically help us in the trout fishing department. Red fish are fine in the low water we just have trouble accessing them when tides are as low as they have been this spring. Definitely a much different spring weather pattern than we had the past two years. We really need some rain and the forecast for today called for a slight chance and we saw very little so I guess they were right.
With the Menhaden migration the lure of choice should be the TEXAS CUSTOM'S DOUBLE D. This Mirrolure made bait is the proper size and comes with a gold or silver hologram. Gold in overcast or dirty stuff and silver on clear bright days is what I like to tell folks. Tackle Town. Waterloo Pro Store and Johnny's Sport SHOP all have great supplies of these lures in all the Custom colors. You'll also want to stock up heavy on MIRROLURE LIL JOHN'S and LIL JOHN XL SERIES soft plastics. Watermelon red glitter, Golden bream, Blue Moon and Moulton are great choices. if the water is really dirty I like June Bug as well. Couple these plastics with the Texas Custom's 1/16th or 1/8TH oz. jig heads. I use the 2/0 short shank screw-loc verses the 3/0 but the 3/0 is great seller for sure. I PREFER the smaller hook. Gets in her mouth and is small enough that is sticks well but she has a very difficult time throwing the lure due to a lack of leverage.
Hope this weather breaks for us soon. I have done about all the filing, weeding. planting and boat and truck detailing I can do for a while.
Blog Date: 2022-03-12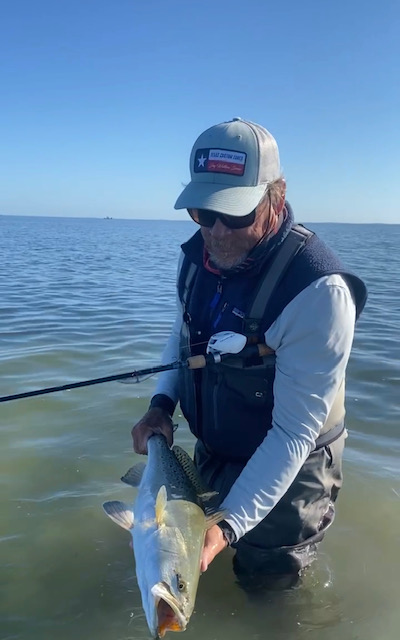 Recap for my week today reveals that over-all still very tough in the trout department. I am only speaking for myself but when I am catching less than 20 trout per day on the average, that's considered slow in my books and in my clients books as well.Prior to the freeze I would have said 30 per day based on the high skill levels of many of my loyal clients. The frequency of the cold fronts seems to have forced the fish deeper than they want to be which is seem in the lack of a deep water bite. My bait sources have also seemed to have moved deeper and the activity of the bait fish is very limited. When we do see any bait fish activity we catch a few solid trout. I did catch 2 fish this week over 6 pounds and both were shallow and in areas where I was seeing a limited amount of bait activity and red fish action. Red fish numbers are good when we specifically target them. Lots of undersized reds in the mix with the larger slot fish. I woke this morning to 45 degree air temperatures, clear blue skies and 15mph NE winds. Forecast for the rest of the day and Sunday look much better if your in town or heading this way.
This week our best lure choices for trout were the Custom Corky floaters in Bay Mistress, Gringo and Pearl Harbor along with the CUSTOM CORKY Soft Dine in the Plum Nasty, Bay Mistress and Gringo. Our reds are not too 'particular when we target them so all of the above will work well as well your favorite Soft Plastic. I have been throwing the Mirrolure Lil John and Lil John XL series in Blue Moon, Watermelon red glitter and Gold Red Glitter. Our waters are very clear so the Blue Moon and Gold Red Glitter patterns seem to be working slightly better right now.
I do anticipate a drastic upswing in our fishing as temperatures warm and weather patterns become more predictable and more consistent.
Blog Date: 2022-02-23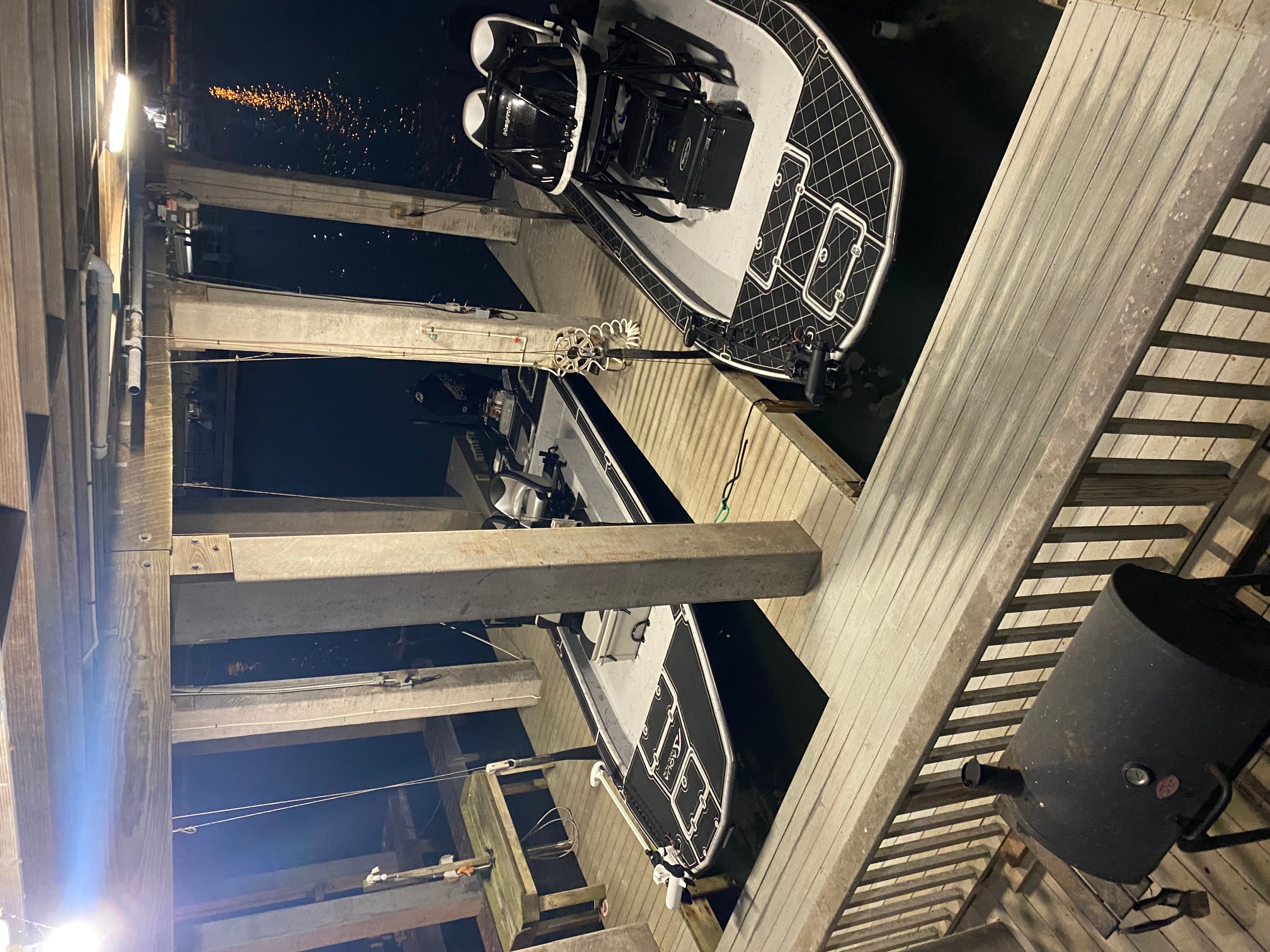 As I sit down today to write this weeks Blog/Update a strong cold front has pushed into the lower Laguna Madre. It's a sight that is familiar to me, water is steaming as it loses the heating from the previous week of warm to down right hot temperatures. Yesterday it was 90 degrees in Raymondville and 85 here in Port Mansfield. Unseasonably warm of for February but spring definitely comes to this area of the Texas Coast much sooner than other areas to the north. Pretty tough past 3 days on the water with SE winds gusting to nearly 30 mph the past two days and then slick calm conditions at the start of the week. I know it sounds like I am making excuses for the tough bite but conditions control what we can do more than what the fish can do. Monday was a good day with 25 to 30 plus trout to nearly 4 1/2 pounds. Great bite despite the lack of conditions. Tuesday through Wednesday the weather controlled what we did but each day we managed to catch trout and I think everyday we had at least one of more fish over 5 pounds. Jay Ray did better with trout to 6 pounds and 1 really fat 7 plus pound fish. Tides are high but will be gone by this time tomorrow with the 30 mph NE winds we have right now. Custom Corky Soft Dine XL and the Mirrolure Lil John XL and 5" Provokers continued to be the best for both of us.
I am always so excited as my time down here approaches and ready to leave when the time is done. I spoke with my best friend today and the comment was made that at the end of this year was there disappointment in what I had seen. Trout numbers are definitely way down but my long time experience chasing them allows me an advantage over many. I know that sounds boastful but there is no replacement for time spent on the water and the experiences that the past 41 years have provided.I will admit that I was at times discouraged when I was not able to catch some of the upper slot fish that I have seen on days when I felt like all the stars were aligned. I know that these fish got to the size they are by avoiding objects in the water that were not real or being presented in enough of a realistic manner that they were briefly fooled. She just has to shut her mouth on it in order for us to have that chance of a lifetime. After that it is angle skills that either finish the job or not. Mansfield is still definitely the right ranch but it is low fence and the season is open 24/7 to the general public. Constant traffic in the feeding and bedding grounds which can create a super breed of super wary trout. Going forward the anglers that sit down in an area based on what they know and fish the area by dissecting every area of structure will be the most successful. All the rest will simply continue to make the trophy class trout a bit wiser each day. I have my days when I miss. Sometimes they come in pairs but seldom in 3's. I am comfortable fishing an area that I believe in based on what I see the entire day if I have clients willing to take that chance with me. As I stare down the 18th hole I fear that some may miss the point in learning to actually fish and being able to enjoy knowing that what they did that day was all them and nothing else. I love conquering them but always love it when the beat me. OK, maybe I don't love that. The photo in the blog today is of our boats sitting in the lift as the winds gust out of the NE. I will return home in a day or so after I get everything here cleaned and packed up. I'll take tonight to reflect on the winter season here and plan to return if the man upstairs see's it in my cards.My heart says definitely but will have to see what the body thinks after another year on the water in Rockport. I look forward to fishing with all of you that are on my books and I look forward to seeing many of you around the docks each day. I will be CATCH AND RELEASE ON TROUT AGAIN THIS YEAR, hoping somehow it repays the species for all that they have done for me.
Blog Date: 2022-02-18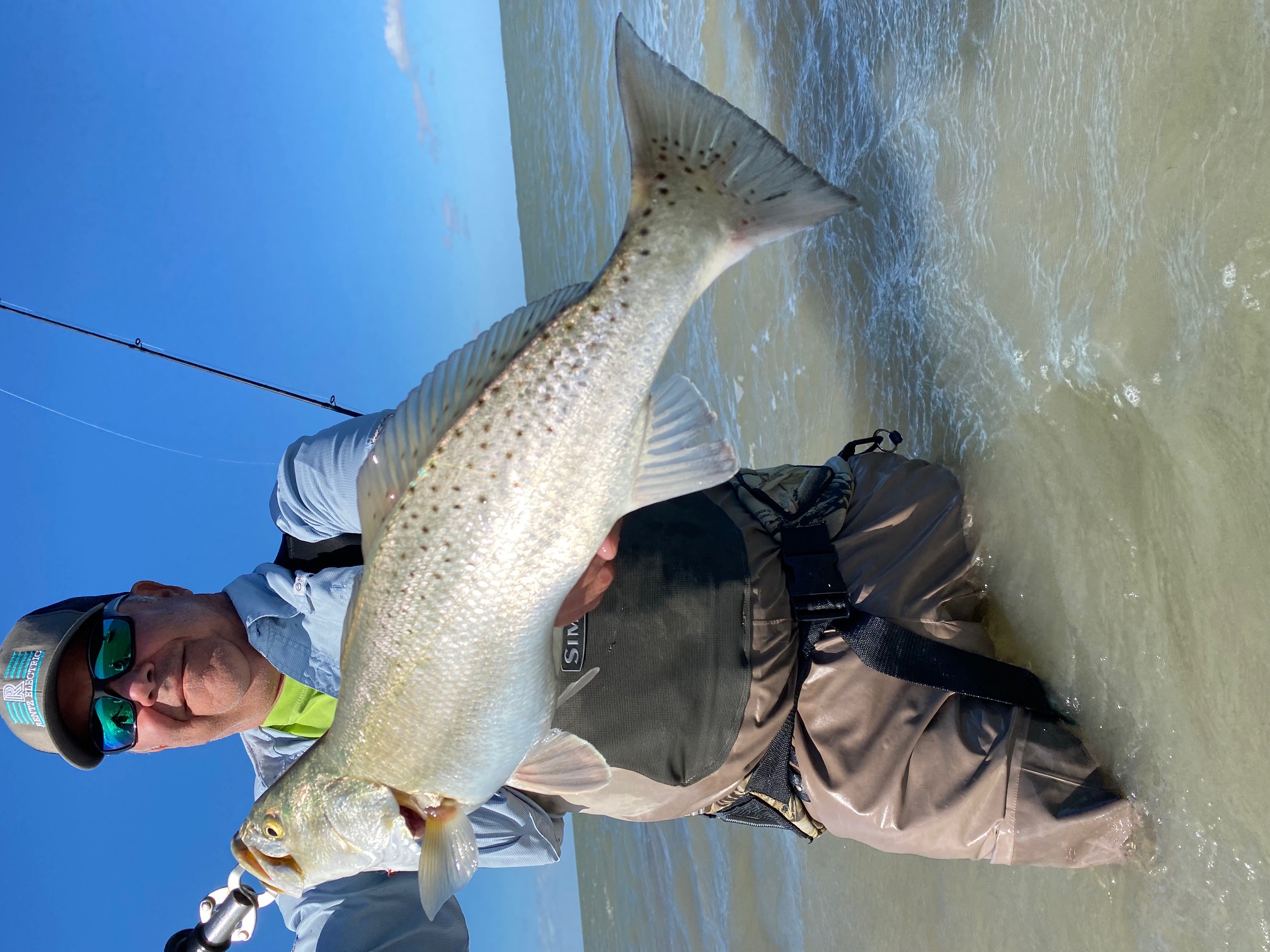 J.R. Rentz is featured in this month's blog photo. Nice fish on a less than nice afternoon weather wise. Port Mansfield is still the right ranch despite the losses that the system suffered during the 2021 February freeze. Definitely less fish over 28 inches but still some really good ones swimming around and preparing to spawn for the 2nd time since the spring of 2021. It is so important that we take a stand and return these fish to the water and allow these genetics to continue to spread.
Nice weekend coming up as winds out of the NE diminish this afternoon. Gonna be chilly tonight and tomorrow morning but warming into the low 60's each day.
Custom Corky Soft Dines, Texas Custom's Double D and of course the Mirrolure Lil John and Lil John XL's will be great choices. The SOFT DINE has been a better choice for me the past two weeks when working smaller areas of structure such as small potholes and smaller dark patches of submerged grass beds. Best colors in the SOFT DINE and DOUBLE D have been Plum Nasty,Double Bubble, Bay Mistress, Bone/silver/chartreuse and Gringo. Mirrolure's Lil John series as well as the 5" Provoker series best colors have been, Watermelon, Pink/Silver and Blue Moon.
Have a good weekend, be safe and release what you don't need.
Blog Date: 2022-02-12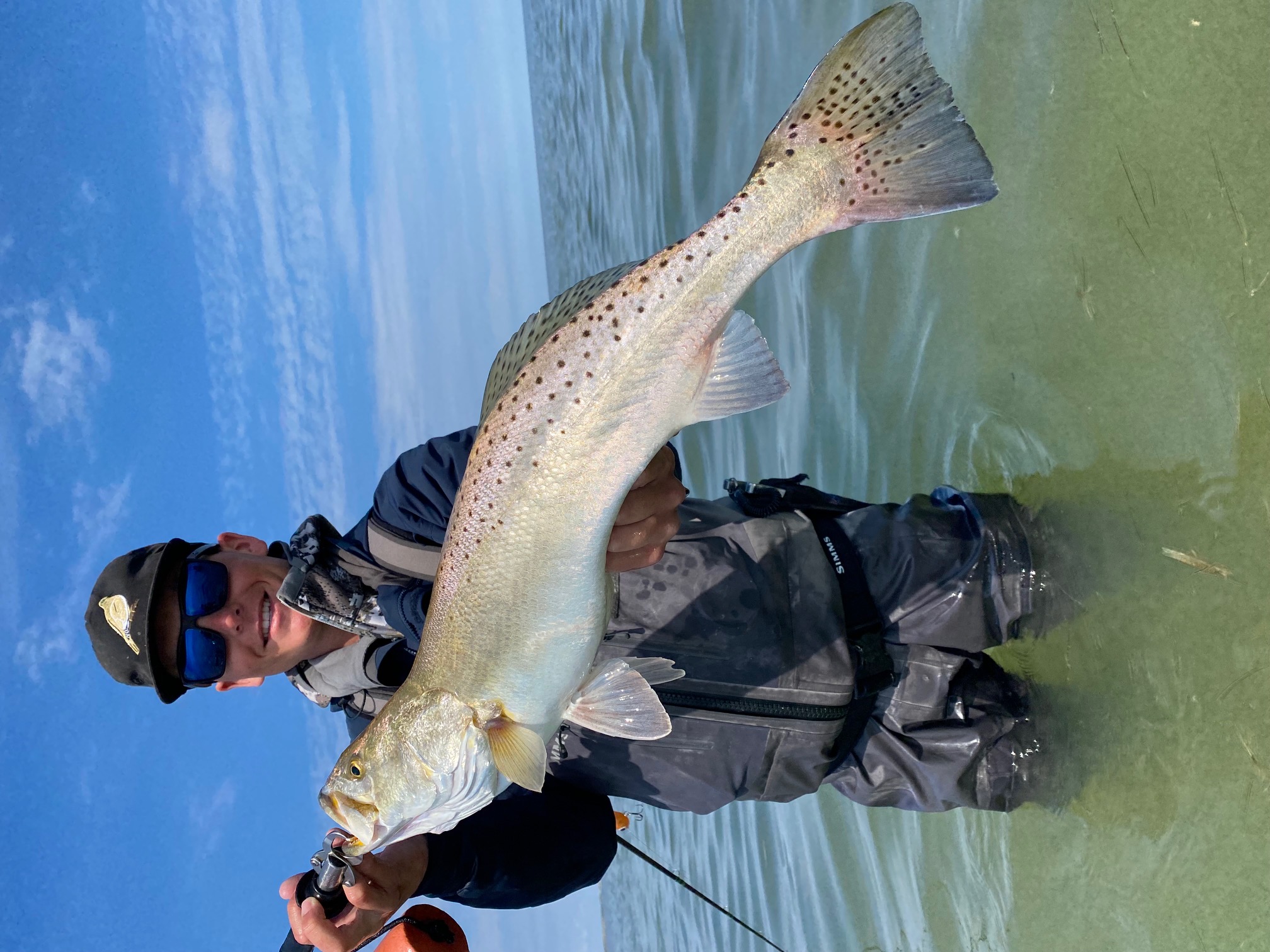 Weather has been up and down the past two weeks which is common for the winter months. This year it does seem that we are having longer lulls in between fronts than we have the previous 2 winters. What I mean by this is that in between one front to the next we are not seeing that quick turnaround to strong SE winds like we have the past two winters. Honestly I like a good breeze in between frontal passages. The wind helps sand the water up for us and this usually improves out bite. seeing fish only proves to us that we are in the right area, it certainly does not mean that we will be able to get them to eat. This is especially true during HIGH PRESSURE periods after strong frontal passages. We are coming up on the Full Moon so the next 4 to days should show us an increase in the feeding patterns of the larger trout. We saw a limited amount of this towards the end of this week prior to the front that pushed in today.
Concentrate on areas were you find a well established food source and bottom structures that allow good cover for predators. With oyster boat pressure off of the ARANSAS BAY complex we can now work our shallow reefs and shell points. If you find bait around the shell reefs and shell points there should be some nice trout and reds lurking near by. Personally, I would be concentrating on locating fish around the shell reefs if I was in Rockport right now. Our reefs concentrate predators and make is easier to catch them. Red fish should be everywhere with the lower tides but trout are still going to be a challenge for many. Both species will NOT be anywhere that there is not a stable and consistent food source.
I have been having a lot of success with the Texas Custom's Double D in Plum Nasty, Gringo,Pearl Harbor and Pistachio. Custom Corky soft Dine series in Plum Nasty, Pure Silver, Pistachio and Bay Mistress have also been good for us the past two weeks. This week the Mirrolure 5" Provoker in PINK/SILVER was really productive for us. This is a bait I honestly don't throw a lot but always have them in my box.
I will be home sometime the last week of February and ready to get back on my home waters.
Jay Ray and I have decided to continue to practice CATCH and RELEASE on SPECKLED TROUT in 2022. The reason the TP&W have reduced the limits to 3 fish and a slot of 17"to 23" for the next 2.5 years are the results of what the spring net surveys showed, which were less trout than we thought. It's the right thing for us to do being that we are out there a ton and honestly pretty darn good and finding and catching trout ha ha.
Blog Date: 2022-02-03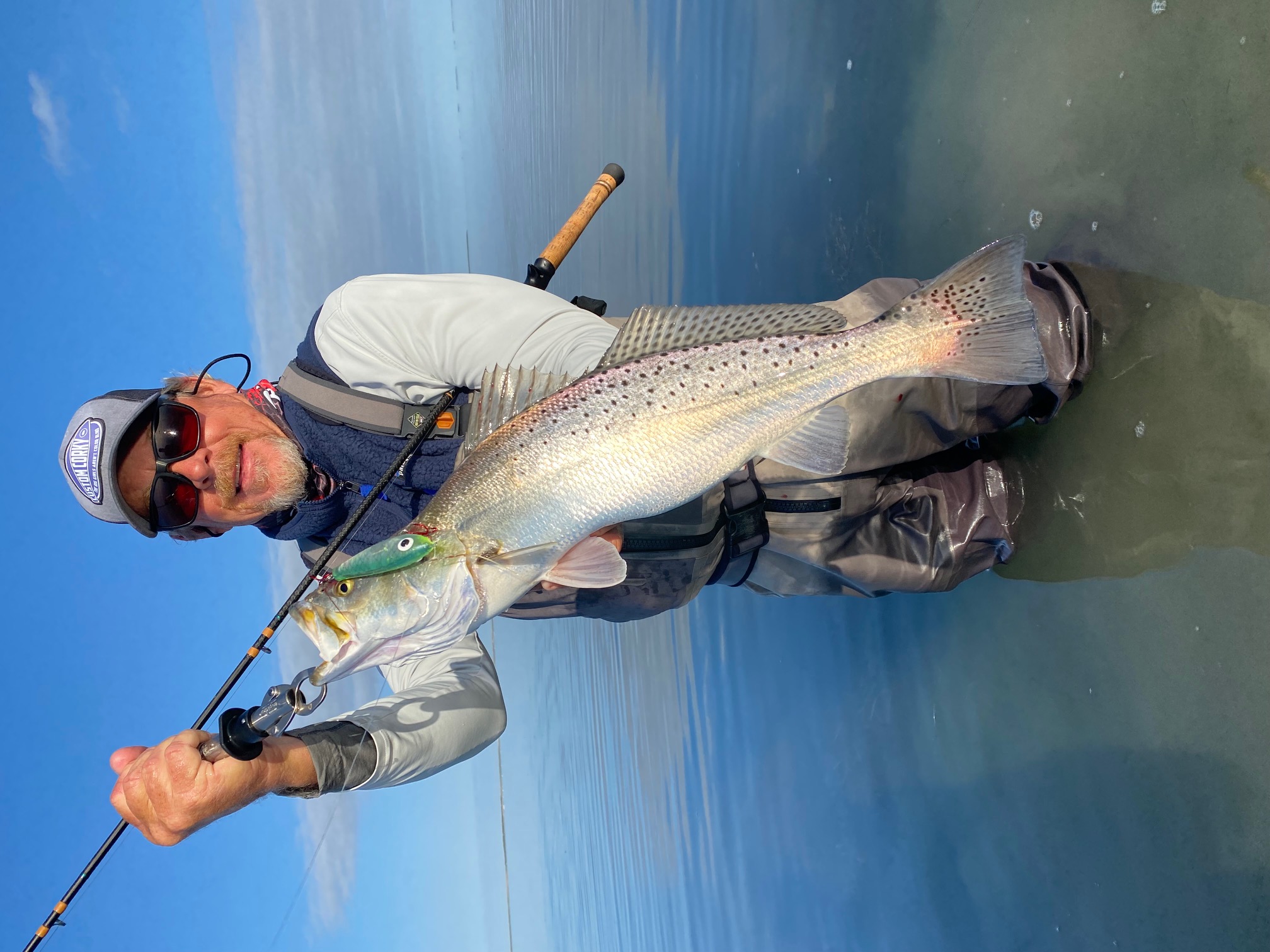 Winter storm warnings are calling for light overnight freezing temperatures in Rockport tonight and Friday night. Should be short lived and not cause any problems for our fish. Sea Turtles could become stressed but the warm up should be good enough each day to help them.
We had a good week on trout using the Texas Custom's DOUBLE D and CUSTOM CORKY SOFT DINE'S. Color patterns for both lures are the custom colors of PLUM NASTY, PURE SILVER, JOSE, PEARL HARBOR and BAY MISTRESS. During the warming trend the CUSTOM CORKY FLOATER SERIES in BAY MISTRESS, GRINGO, PISTACHIO. Our waters hava been very clear so the clear water colors seem to be our best performers. Our soft plastic choices are still pretty much the same. Hey, when you feel your using the best why change right? MIRROLURE Lil John's, Lil John XL series and the 5'" Provoker series as well as the 5" inch BASS ASSASSIN are still my go to when things get down right tough. Watermelon,June Bug, Plum, Bone Diamond, Cajun Croaker and Blue Moon have been great choices in the clear water. I highly recommend the Texas Custom's Jig Heads in the 1/16th and 1/8th oz. 2/0 SCREW LOCK series. They are the absolute best jig heads I have used and I have helped design and field test many. Lowell Odom listens and builds what serious anglers out there want and need.
Tough weather pattern for the next 3 to 4 days so stay warm and wait for the next warming trend before you get out on the water.