Meet Professional Fishing Guide
JAY WATKINS, JR.
Biography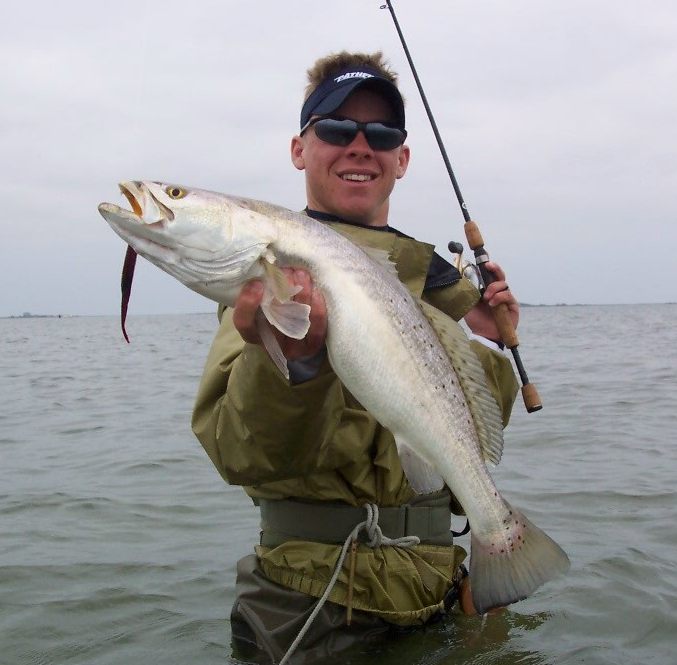 TOURNAMENT ACCOMPLISHMENTS
2000- Port O'Connor open Champion
2000- Bass Assassin Rockport Open 3rd Place
2001- Cut Rate Fishing Tackle Open Champion
2001- Shimano Port Mansfield Open Champion
2001- Yo-Zuri Galveston Open Champion
2001- Summit Steel Classic 2nd Place
2001- Berkley Power Baits Rockport Open 2nd Place
2004- American Rodsmiths Rockport Open- Pro Division- Champion
2004- American Rodsmiths Rockport Open Largest Trout- Champion
2006- Saltwater Angler's Port O'Conner Bash 2nd Place
2007 Texas Saltwater Trout Series P.O.C. Tx. 4th Place
2007 Speedy Stop P.O.C. Trout Bash 3rd Place
2007 Speedy Stop P.O.C. Trout Bash Day one BIG TROUT 1ST Place
2007 Texas Saltwater Trout Series Matagorda, Tx. 2nd Place
2007 Texas Saltwater Trout Series TEAM of the YEAR
2007 I.F.A Ranger Cup Port Aransas, Tx.3rd Place
2007 Texas Saltwater Red Fish Series Port Aransas, Tx. 3rd Place
2007 Wal Mart F.L.W. Red Fish Tour Port Aransas, Tx 7th Place
2007 Texas Saltwater Red Fish Series, Port O Connor, Tx. 2nd Place
2008 Babes on the Bay guided artificial CHAMPIONS
2008 Texas Red Fish series/Cabela's Outdoors Bluff's landing CHAMPIONS
2008 Texas Red Fish Series Port Lavaca tournament CHAMPIONS
2008 Speedy Stop Trout Bash Bluff's Landing 2nd Place
2008 Texas Red Fish Series/Cabela's Outdoors Rockport tournament 2nd Place
2008 Texas Trout Series.Cabela's Outdoors Bluff's Landing Tournament 4th Place
2008 I.F.A. Red Fish Texas tour Corpus Christi Tournament 4th Place
2009 I.F.A. Red Fish Texas tour Rockport tournament,CHAMPIONS
2009 Babes on the Bay, 2nd Place Guided artificial division
2009 Texas Trout Series Bluff's Landing Tournament 4th Place
2010 Bluff's Landing Trout Series,4th Place
In 1985 my fishing career started, yes at birth some of my first minutes of life were surrounded by fishing. In the delivery room my mothers doctor asked my dad how long I was as he handed me to my father. My dad, Jay Watkins stated that he was not sure of the length but holding me for those first few moments told him that I was well over 10-pounds. I weighed in at a whopping 10 pounds 3 ounces. That ' s not just a keeper my dad said, it ' s a stud. Fishing has always been a major part of my life. I started actively casting and trying to tie knots at the age of five. I do not really remember these activities but family photos that hang in our home today are reminders of some of my first days spent on the waters of Aransas Bay with my dad. My dad has always found the time to take me and my brother fishing. From the time I can remember I always wanted to follow in my dads foot steps and become a guide. He wants me to make foot steps of my own and is willing to coach me along the way. As I got older my father starting taking me and my brother along with him to the Texas Trout Masters Tournaments. In the early years there was a youth division so lots of dads brought their sons or daughters along to fish. These were some of the most wonderful memories I have and valued time spent. It was the time spent with family that means the most to me now but back then it was the excitement of seeing new areas and not knowing what to expect. Oh, we met some of the best guides and fishermen in the State. My dad has tons of respect for guys like David Rowsey Cliff Webb, Blaine Friermood, Mickey Eastman, Tommy Ramzinski and Todd Adams to name only a few. Throughout our 4 year tour I learn many things about fishing but more about the true passion for fishing that I possessed. I could literally not sleep on nights before tournaments or for that matter fishing trips with my dad. When I entered High School Thursday nights were sleepless before my Friday night football games. I was raised in a very competitive life style, the Watkins Tribe as some have called us DO NOT LIKE TO LOSE. During the summers of my High School career I worked my dad and local guide Brad Symthe to earn money for my first truck. I wanted something that could pull a boat and get me into the back pasture on our South Texas hunting excursions. Over my four years of working on the water of Aransas Bay I gained valuable knowledge about the area and about the habits of the trout and red fish that reside here. If you know my father or have ever heard him speak you know his motto is to FISH SMART. We agree that fishing smart is crucial if you ever want to reach the highest level of guiding as well as tournament fishing. I LOVE THE EXCITEMENT OF TOURNAMENT PLAY. I traveled with my dad during his first season on the ESPN RED FISH CUP TOURNAMENT trail and helped him scout. What a great experience it was to travel to all the areas in Florida and Louisiana and meet the guys we did. The WATTS BROTHERS from Florida are some of the most genuine guys you would ever want to meet. My dad and his partner Jim Franklin finished a disappointing 32nd in total point standings for 2004. My dad has asked me to be his partner in 2005 in all the Red Fish Cup events, the Trout Masters events, IFA Red Fish Tour Events and the Q-Series Events. This season my dad and I WON the Rockport Trout Masters Event and qualified to fishing the Trout Masters Classic in Lake Charles, La. in October.
Over the years I was fortunate enough to when 3 Trout Master Junior Titles. In my very first Pro Division Trout Masters, the 2004 Rockport Event I won with my dad as my partner. Winning the tournament and the 15,000.00 1st place prize money was great but to stand there with my dad, well it was priceless. In this tournament I was also the winner of the Big Trout Division with a fish weighing at 7 lbs. 13 oz. This brought our total winnings to 18,000.00. After graduating from High School in May of 2004 I entered Coast Guard School to obtain my Coast Guard Captains License. I received my license on July 16 of 2004. I Also plan on attending College In Corpus Christi, Texas in the Fall OF 2004. In closing I want you to know that my Dad has taught me that my job description as a pro staff member is to support my local dealers as well as the manufactures. I am some times the only company representative that the public ever sees so how I present myself and your products are extremely important. I will work extremely hard to provide you with the best product representation possible. My dad and I looking forward to representing you in the upcoming year both on the tournament trail as well as in our daily guiding services.